Difference between revisions of "Main Page"
Jump to navigation
Jump to search
m

 

(9 intermediate revisions by 6 users not shown)
Line 1:
Line 1:
−

2 could be tricky Well, Mankins' departure has nothing to do with Fleming's playing time in the first two games, as they play different positions. Fleming is a tackle,  [https://postheaven.net/c5uwb61rr5 discount mlb jerseys] where Mankins was predominantly a guard in his Patriots career. The rookie has been used as the extra blocking tight end (reporting as eligible) on a number of running plays, but has yet to see any extended regular season action at either tackle position. Putting together a seven round mock draft is an interesting exercise,  [http://armaniv01oxn.ek1.pl/2021/07/28/palo-alto-will-make-goggles-mandatory-over-health-critical/ authentic nba jerseys China] attempting to match not only teams with positions of need and  [https://echo-wiki.win/index.php?title=The_best_Kickers_a_new_current_report_from_the_american_footbal_5972834929&oldid=397870 wholesale nba jerseys from China] players who fit philosophically, but also tracking team visits, workouts and [https://centrenet.centre.edu/ICS/New_Campus_Life/Student_Organizations/Campus_Groups/Centre_PAWS/Discussion.jnz?portlet=Forums&screen=PostView&screenType=change&id=baf8b656-ece3-4892-a0f6-7fdbd0f91f00 wholesale nba jerseys from China] overall interest to make it as realistic as possible.<br><br>An example would be Arkansas guard/center Frank Ragnow projected to the Vikings at No. 62 in the second round.

+

[:.]

 
+

 

 
+

a . as as a . is .  

 
+

 

 
+

.

 
+

 

 
+

-to with -.

 
+

 

 
+

from , , and . .  

 
+

 

 
+

 

 
+
 
+

//

 
+
 
+

 

 
+
 
+
 
+

 

 
+

/

 
+

]
---
Latest revision as of 10:14, 19 October 2021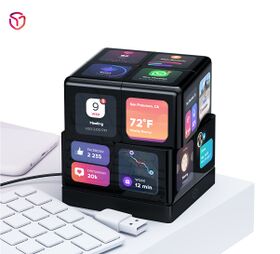 WOWCube is a game console or an electronic puzzle shaped as 2x2x2 Rubik's Cube. Serving as an example of a tangible user interface, it consists of eight identical elements working as a whole. The surface is covered by 24 screens.
It allows the launching of specially designed games.
It is a stand-alone digital device that uses a Tangible interface and Mixed Reality to create an exciting development environment with unusual characteristics in which puzzle-like dynamic games can work.
The main difference from mechanical puzzles is that you can run many different games on the cube, more than one game, and they are not necessarily puzzles. With some imagination and creativity, the WOWCube® system turns in to a multipurpose device. When you're not using it, the WOWCube® system goes into screensaver mode, in which different screens display different widget apps. It's a standalone device and it connects to a smartphone via Bluetooth.

Main topics: