Difference between revisions of "Main Page"
Jump to navigation
Jump to search
m

 

(8 intermediate revisions by 5 users not shown)
Line 1:
Line 1:
−

30 left in the third quarter Pokes seem to be a penalty 60% of the time, stick lifts are forbidden as its 90% penalty rate it seems. All you see is the same 3 4 teams online (pens, caps and team russia or  [http://christineolh.mee.nu/?entry=3241965 authentic baseball jerseys] canada). Its even worse in this years game because you cant see who you are facing until puck drop. Here is the template from which I will be working as of today, Thursday, December 30, 2010. The Detroit Lions have their own picks in rounds one through six,  [http://hugosxipsj2.mee.nu/?entry=3242496 wholesale football jerseys free shipping] plus Philadelphia's sixth round pick, but owe a conditional sixth round pick to the Atlanta Falcons (Chris Houston), for a current total of six picks in the 2011 [http://tensoft.mee.nu/?entry=3243069 cheap nfl jerseys free shipping] Draft.<br><br>For sake of discussion, I'm going to make the pick gained from Philadelphia the selection to be parlayed to Atlanta..

+

in

 
+

 

 
+

a of , as . is

 
+

 

 
+

the

 
+

 

 
+

and in .

 
+

 

 
+

is the , , , . in . a to a

 
+

 

 
+

 

 
+
 
+

[//

 
+
 
+

 

 
+
 
+
 
+

 

 
+

/

 
+

]
---
Latest revision as of 10:14, 19 October 2021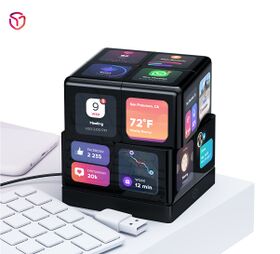 WOWCube is a game console or an electronic puzzle shaped as 2x2x2 Rubik's Cube. Serving as an example of a tangible user interface, it consists of eight identical elements working as a whole. The surface is covered by 24 screens.
It allows the launching of specially designed games.
It is a stand-alone digital device that uses a Tangible interface and Mixed Reality to create an exciting development environment with unusual characteristics in which puzzle-like dynamic games can work.
The main difference from mechanical puzzles is that you can run many different games on the cube, more than one game, and they are not necessarily puzzles. With some imagination and creativity, the WOWCube® system turns in to a multipurpose device. When you're not using it, the WOWCube® system goes into screensaver mode, in which different screens display different widget apps. It's a standalone device and it connects to a smartphone via Bluetooth.

Main topics: